My team is growing and so I need more user seats! How can I do this?
How many team seats do I have?
Every Copysmith plan comes with a number of free seats. To see how many free seats you have, visit the Team tab in the left sidebar and select the Team members section. On the right under your existing team member names, you'll see the number of seats available.
Starter Plan: 1 free seat - $9 per additional seat
Professional Plan: 5 free seats - $9 per additional seat
Enterprise Plan: 20 free seats - $9 per additional seat
How do I add additional seats?
In the left sidebar, click the Add-ons tab.
Click the purple Activate for $9 button under Additional Team Seats.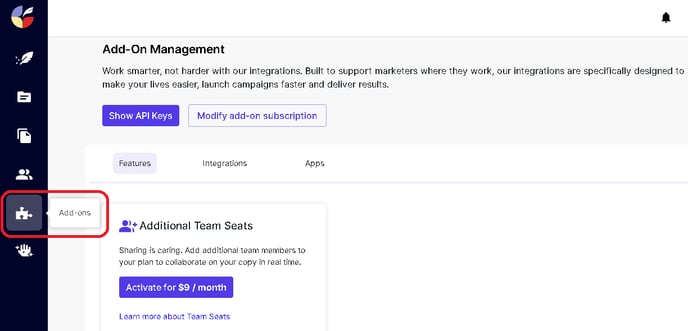 3. Use the plus sign on the left to add additional team seats to your account.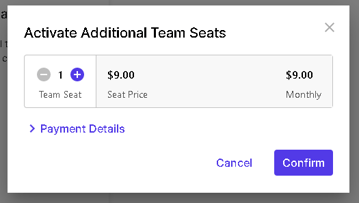 4. Click the Confirm button.
Important: If you're unable to add additional team members, you may have reached the limit and need to upgrade your plan.
Starter: Max of 5 team members
Professional: Max of 10 team members
Note: Once you invite additional team members, let them know they'll be receiving an email inviting them to create their login. These can often land in the spam or junk folder so be sure to check there!