Frequently asked questions about our free trial
How long is the free trial?
Our free trial is 7 days!
What all is included in the free trial?
You have access to all our templates and can generate up to 2000 words per day (up to a max of 2500 words during your trial) with 5 total plagiarism checks.
Are integrations included in the free trial?
Some of our integrations are available to trial users. Google Ads and WordPress integrations will not be available.
Is a credit card required?
No, you do not need a credit card on file to begin a free trial.
How do I sign up?
Sign up for a free trial using your Google or Outlook account or by using your preferred email address and password. To get started, visit our signup page!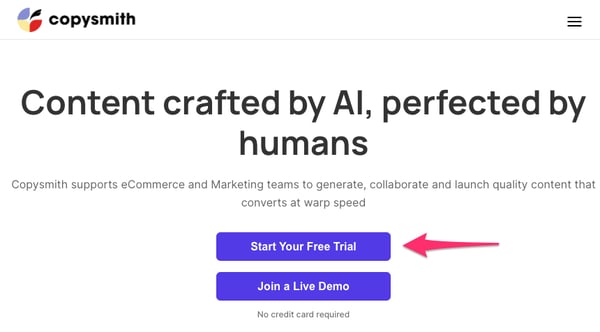 How do I end my free trial?
No need to do anything! Once your 7 day free trial period ends, your account will automatically close.
How do I subscribe to a paid plan?
Welcome aboard! This article will walk you through how to subscribe to the plan of your choice.