Frequently asked questions about credits
What is a credit?
Credits are redeemed for generations of copy you create from template to template.
How many credits do I get?
Starter plan includes 50 credits per month.

Professional plan includes 400 credits with an upgrade option for unlimited credits.

Enterprise plan includes up to unlimited credits.
How can I get more credits?
Any plan with a limited number of credits can purchase an additional 25 credits per month for $10/month.
When does a credit get used?
A credit gets used when you click the Generate button on a template. It will tell you how many credits will be used below the Generate button.
Tip: Make sure all the information you've entered is the best quality or exactly how you want it before you click Generate. Some templates use only one credit while others can use more than one.
Which templates use more than one credit?
🌟 Landing Pages consume 8 credits
🌟 Event Press Release 3 credits
🌟 Unique Value Prop 2 credits
🌟 Bullet Point Expander consumes 3 credits
🌟 Content Rewriter consumed 2 credits
🌟 Content Enhancer consumes 2 credits
🌟 Blog Kickstarter consumes 3 credits
🌟 Every other short form template consumes 1 credit
How much content can I generate with each credit?
Each credit will generate about 400 words on average, which means if you're on the Starter plan, you can generate about 20k words per month, and if you're on the Pro plan, you can generate about 160k words per month.
When Will My Credits Reset?
Credits reset on the first day of your new billing cycle. If you are not sure when your billing date is you can check that at any time under the Billing tab in your profile.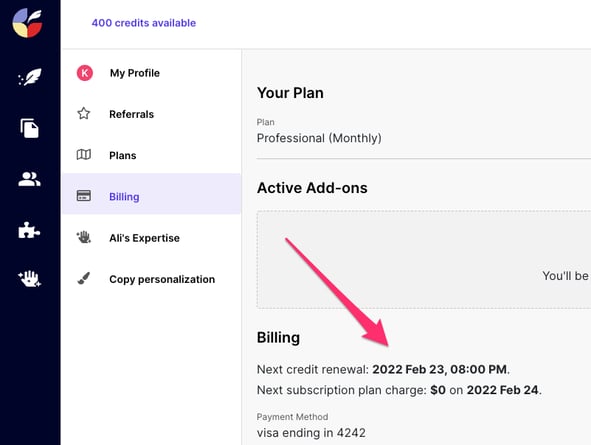 How do I know how many credits I have left?
Your remaining credits are shown in the upper, left-hand corner when accessing any section in the left ribbon. When creating copy in a template, you'll also see your credits in the upper, right-hand corner!